The New DJI M30 & M30T deliver industry-leading power and versatility in a backpack-sized package.
At the recent DJI Enterprise live event, DJI announced a host of new drone products designed specifically for enterprise and commercial level uses. In a quick summary of the event, DJI launched a new DJI M30 family of drones, a new addition to the H20 series payloads was introduced with both thermal and night vision capabilities,

The newly launched DJI M30 series of drones is the manufacturer's latest flagship drone, which combines the features of the powerful Matrice 300 RTK and portable Mavic series. The M30 integrates multiple high-performance sensors into a single camera payload, including a 48MP 1/2" CMOS sensor zoom camera with 5×~16× optical and 200× digital zoom, a 12MP wide-angle camera with 8K photo / 4K 30 fps video resolution, and a laser rangefinder that can give the precise coordinates of objects up to 1,200m away. The M30T features an additional 640×512 px radiometric thermal camera.

Controlling the M30 is the redesigned RC Plus controller which runs on the upgraded Pilot 2 software, significantly improving the in-flight experience, while providing the pilot with greater control and image capture features. The M30 combines many of the best features from its larger counterpart, the Matrice 300 RTK, including the hot-swappable batteries and RTK functionality, while retaining a size that can be carried in a backpack, like the Mavic series.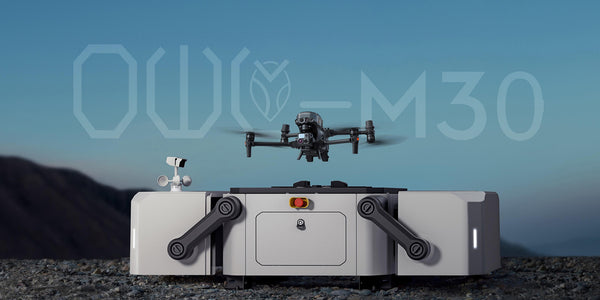 There's been a small increase in IP rating between the DJI M30 series and its predecessor, now rating 55 compared to a previous 45. The ingress protection standard defines levels of sealing effectiveness against "ingress" i.e. intrusion from foreign bodies such as tools, dirt and liquid water.

The upgrade that can be seen in these models reflects an increase in protection against solids, such as dust and grit. This means the DJI M30 series will still be high performers in heavy rain, high winds, high altitudes, even in icy and snowy conditions from -20° C to 50° C," according to DJI.

While some might suggest the shorter flight time of 41 minutes is a downgrade from DJI's larger Matrice 300 RTK at 55 minutes, it's important to remember the larger 55-minute flight time is quoted without a payload. We've regularly found the Matrice 300 RTK offers closer to a 35-40 minute flight time in calm
conditions with a comparable payload to the H20T, so flight times are a lot closer than stated.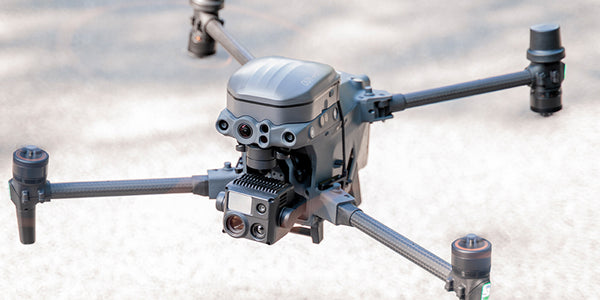 Who is the DJI M30 series for?
With similar payloads to both the Mavic Enterprise 2 and Matrice 300 RTK with H20T payload, we're confident in suggesting the new M30 series of drones are designed primarily for public safety & inspection purposes.
For Public Safety operations, the M30Ts power thermal camera will give you essential operational awareness while maintaining a safe distance to targets, while the foldable design will allow personnel to easily transport the drone and enable incredibly fast deployment.
For inspection purposes, the M30's 48MP and 16x optical zoom mean you capture, crisp and accurate images to better manage asset maintenance or combine image sets to create detailed orthomosaic maps. The M30 also includes several intelligent flight features to support to enhance your workflows.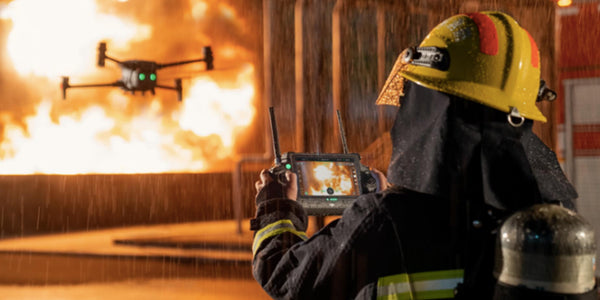 A reimagined controller
Controlling the new M30 series will be DJI's newest RC Plus controller. Featuring six quick action buttons and a seven-inch display giving pilots even more visual information, even in bright conditions thanks to its impressive peak brightness. The RC Plus has also been certified as IP54, meaning it can be used in heavy rain.
The RC Plus will also feature a 6-hour battery life, as well as hot-swappable batteries so you're extended missions aren't interrupted. As expected, the RC Plus has now become the standard DJI enterprise remote controller.
Manging these new flight systems is DJI's new FlightHub 2 software, "an all-in-one cloud-based drone operations management platform that helps you achieve comprehensive, real-time situational awareness. Access all the information you need to plan drone missions, supervise your fleet, and manage the data you create, now from a secure cloud-based environment."  
New Dock, new tricks
The biggest surprise however was the release of DJI's new Dock system, designed to house, charge and release an M30 drone for remote,
pre-programmed missions executed with DJI Flighthub 2. The DJI Dock also features impressive fast charging capabilities thanks to its integrated TEC air conditioning, enabling faster turnaround time and more time in the air.

The DJI Dock also allows operation in extreme weather, including temperatures ranging from -30℃ to 50℃ and IP55 protection against heavy rain and dust. From takeoff to landing the whole operation is managed through DJI's new FlightHub 2 software, unlocking the full functionality of the cloud, enabling you to schedule missions, create and edit flight routes and managed full data workflows,

"But who is the DJI Dock for?" I hear you ask. We believe the primary function of the DJI Dock will be supporting the automation of tasks such as critical asset inspection, such as solar and wind farms, where the placement of a DJI Dock would drastically speed up the inspection process and reduce the need for piloted missions.